Too much
Walking Dead
maybe?
The color suits my complexion and gives great coverage, as well as being a camouflage, just in case, you know, any zombies decide to come sniffing around. The mint scent might put them off too, or at least mask my living human blood scent.
But in all seriousness, I got an awesome
Lush mask
from my baby sister for my birthday, very minty, very refreshing. I normally run away from Lush stores, you can smell them half a block away, and with a sensitive nose and stomach, I avoid them at all costs. But this mask is perfect, the smell isn't so overwhelming that it overpowers every thought in my mind.
And of course, I had to model off my latest
Off on a Whim
creation:
Angel, Grief and Support Loss Bracelet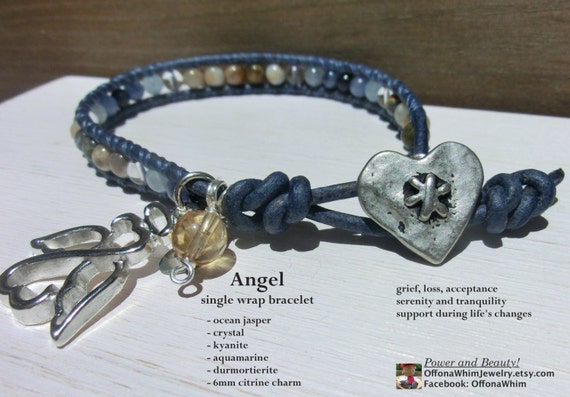 Available now in my
Etsy Shop
for $23.00. Blog readers can use this code for free shipping on this item:
FREESHIP
Anyway, my skin feels much cleaner, smoother, and refreshed. Too bad the mask needs to be used up by September, cause I was thinking it might work well for Halloween makeup!